Marine Recycling Corp. of Port Colborne, Ont., won a $12.6-million contract to scrap the former HMCS Preserver, a decommissioned Canadian naval auxiliary oiler replenishment vessel, and the auxiliary research vessel Quest.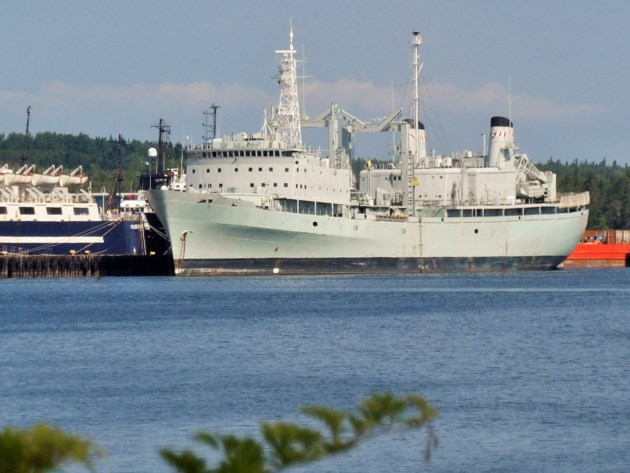 SYDNEY — Shipbreaking will be done at the McKeil Marine docks, across Sydney Harbour from the downtown marine terminal.
On Friday, officials with the Department of National Defence and Public Services and Procurement Canada were on hand at the Sydport Industrial Park docks to announce a $12.6-million contract to Marine Recycling of Ontario for the disposal of former naval auxiliary oiler replenishment vessel HMCS Preserver and former Canadian Forces auxiliary research vessel Quest.
Earlier this year, Marine Recycling, based in Port Colborne, Ont., also won a $2.6-million contract to scrap the MV Princess of Acadia, which was the former Digby ferry.
The former oiler and ferry are both tied up in Sydney Harbour waiting to be scrapped, while the research vessel is expected to arrive at the docks this fall.
Marine Recycling founder Wayne Elliott said the former Princess of Acadia was supposed to be recycled at the company's Ontario facility, but towing of dead vessels is currently on hold in the St. Lawrence Seaway, so the former ferry is stuck waiting in Sydney Harbour.
Elliott said his company is leasing space at the McKeil Marine docks and has been shipbreaking in Ontario for decades.
Despite the industry's well deserved reputation for being environmentally unfriendly, shipbreaking can be done safely and Marine Recycling plans to follow all environmental regulations, he said.
"Our company ... was the world's first environmentally ISO-certified company, 15 years ahead of the second, since the year 2000," Elliott said during a press conference with Sydney-Victoria MP Mark Eyking.
"And we operate at quite a different standard than the areas of the world that you're speaking of now with all the bad news and the carnage. We're the oldest ship recycler in the world. We've been at it longer than anyone else in the world, and I think this is ship No. 134 with no accidents, no insurance claims, no loss of vessels.
"So it's a pretty good track record and we have no intention of changing that."
Eyking, who was speaking on behalf of acting public services minister Jim Carr, said the latest contract would add 35 direct jobs in Cape Breton and he has no concerns about the environment around Sydney Harbour.
Marine Recycling has a long family history of successful shipbreaking, he said.
"We are very confident in ... their company and the work that they have done, and the work they're going to do here over the next little while," Eyking said. "This is not something that is new to the corporation. They've been doing this in Port Colborne and it's something that we can do well in this country.
"We have the expertise to do it and in an environmentally sound way."
Eyking said several times the ship was being "decommissioned" and that he hoped other decommissioning work would come to Sydney Harbour, but federal officials later said technically Preserver was decommissioned last year in Halifax. They said the latest contract is for shipbreaking, not decommissioning.
Decommissioning involves removing key operating components and taking a ship out of service. Shipbreaking involves cutting the ship up for scrap.
Elliott said all hazardous materials, such as batteries, fuel and oil, were removed from the ship before it was towed from Halifax to Sydney. The ship still contains some asbestos, but Elliott said dangerous materials like that would be handled and disposed of safely and according to regulations.
Workers will test various internal components for dangerous materials, such as asbestos and heavy metals, and then begin cutting the ship apart from the inside, he said.
Once that work is done, the ship's exterior will be cut apart. Many of the materials, including the ship's steel, will be sold for scrap.
Elliott also said much of the work can be done while the ship floats, however the company will eventually install a slip that will allow the ship to be taken out of the water for final dismantling.
He also said the company, based on Lake Erie, has long wanted to work on Canada's East Coast and is now planning to take on its main shipbreaking competitors in Turkey.
"We hope this is the start of a good, long-term operation and relationship," said Elliott.
The steam-driven Preserver was built in 1970 and was paid off — decommissioned — last year in Halifax, after serving as a military supply ship for decades. Her sister ship, Protecteur, was scrapped in Liverpool last year.
Mike Stege, a ship disposal officer with National Defence, said it was "bittersweet" being in charge of dismantling the former Preserver, especially because he served as the ship's chief electrician from 1999 to 2001, overseeing all electrical systems and propulsion.
"It's a bittersweet moment when you look at her now," he said. "You come full circle from a living ship to all of a sudden I'm disposal manager, so that's a little different.
"It becomes a part of you. When you sail with 300 of your best friends for months upon months at sea, you become very close. It's no longer an inanimate object. It lives with you.
"Every ship has a different personality. Completely different. This one, because she has so much sea time, she used to do long deployments of fuelling NATO ships and all that, so we'd be gone for six months at a time. It was nothing in those days for us to sail 200-plus days in a year.
"This one, her nickname is the Heart of the Fleet, basically because she supplies food, water, everything to so many.
"The problem is with her, she's a steam-driven (ship), so as technology advanced, steam is still steam. It was time to put the little lady down. You can't find parts for them anymore."
Retired chief petty officer second class Mike Senman of Eastern Passage spent a brief period aboard Preserver during training in 1988 and served as a marine engineer on the ship from 2002 to 2009.
He said some service members implied the supply ship was a luxury cruiser because of its size and stability on the sea.
However, Senman said, it was also hard work and it was sometimes dangerous.
"A lot of the other sailors would call it the Love Boat because she's big and fat and proud and she rides really well along the ocean," he said. "The destroyers and the frigates tend to bob up and down just because of the way they're cut."
In 1988, Senman had just gone off watch while Preserver was fuelling a NATO ship on one side. On the other side, a British vessel accidentally ran into Preserver and punched a hole in her side above the waterline.
No one was injured in the incident, he said. There was no danger of sinking, and thankfully there was no fire.
Because of the length of time spent at sea, sailors tend to think fondly of ships as their home away from home, and that makes it difficult to watch as ships are dismantled, said Senman.
He happened to see the former Protecteur being taken apart in Liverpool last year, and it hurt.
"You kind of avoid looking at it, but if you do look at it, it's a sad thing to see," Senman said. "Especially the main engineering spaces, like the main engines, the turbines and the gearbox, things that we watched over so carefully all those years to make sure everything was done right ... the heart of the ship.
"And then you see these contractors and they start ripping and tearing things. They have no idea what they're ripping and tearing, but it's like ripping our hearts out watching that stuff go.
"Seeing the main gear wheel on the jetty in Liverpool from the Protecteur ... it's quite sad, quite shocking to see, because some of that gearing is as pristine as it was when that ship was built."
Source
: local xpress. 05 August 2017