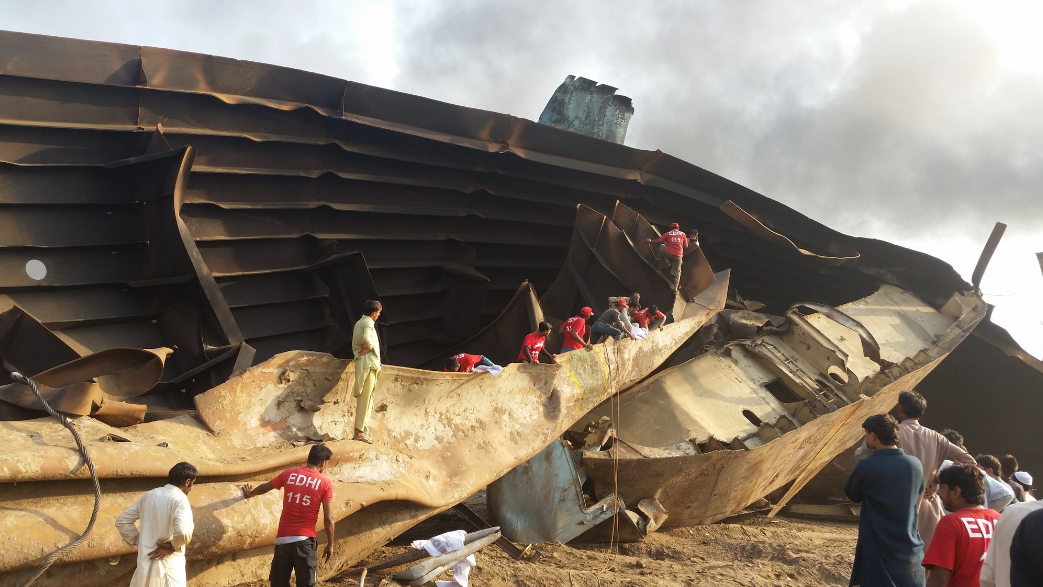 Following a series of collective bargaining negotiations over wages and labor conditions, the three labor unions for shipbreaking workers in Gadani, Pakistan are engaged in a dispute over which might be the legitimate representative of the yards' workers. The Ship-Breaking Labour Union, Gadani alleges that all of the others are "fake."
At a recent press conference, union finance secretary Musharraf Humayun told The News that "fake groups" held "unauthorized press conferences" and masqueraded as workers' unions. In particular, he singled out Nasil Mansoor of the National Trade Union Federation (NTUF). However, workers allege that the Ship-Breaking Labour Union is actually controlled by shipbreaking labour contractors – the employers – and say that they must agree with its views or find themselves out of work.
Last month, NTUF and its partners called for a labor action to protest slow implementation of promised safety improvements, like an ambulance service and a fire brigade. Mansoor claimed that employers had installed out-of-date safety equipment salvaged from ships and had not yet hired ambulance drivers or doctors. But the union reached an accord with shipbreaking employers last Friday, including a 10 percent raise, and it called off the strike. NTUF has worked to avoid yard closures, even while calling for improvements, saying that the yards' impoverished migrant workers would be hurt more by the loss of work.
Gadani has been plagued by a series of deadly accidents over the past year, including the explosion and fire aboard the decommissioned FPSO Aces, which killed at least 26 workers and injured dozens more. Seven workers have died in various accidents over the months since, including five killed in another ship fire in January.
Source
: maritime-executive. 09 August 2017