Officials with McKeil Marine and Heddle Marine Services say Sydney Harbour is ideally located to take advantage of the growing need for tugboats, barges and ship repairs in the Atlantic region.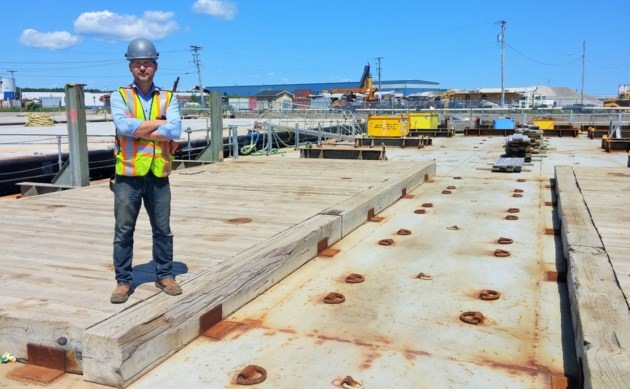 Mike Moore, regional manager of commercial interests for Heddle Marine Service's East Division in Sydney, stands on the deck of a barge that is being repurposed at the company's wharf in Sydport Industrial Park. The barge was used to service the oil and gas industry off Newfoundland, and will soon be used to service a mining company after the steel and lumber are taken off the deck, to be replaced with another configuration the client has requested. (TOM AYERS / Local Xpress)
SYDNEY — The wharf in Sydport Industrial Park is busy and getting busier, with repairs, maintenance and recycling of tug boats, barges and ships.
One activity that is not happening — and can't happen due to the lack of infrastructure — is shipbreaking, officials with McKeil Marine and Heddle Marine Services told Local Xpress on Friday during a tour of the wharf and the vessels tied up alongside.
"We are in marine services," said Mike Moore, regional manager of commercial interests for Heddle Marine's East Division. "We don't do shipbreaking.
"We're not involved in any way with scrapping a vessel. What falls within our wheelhouse is ship repair and ship maintenance."
McKeil, a related but separate company, operates tugboats and barges, said company spokesman Jamie Connors. It began leasing the Sydport wharf and property from Cape Breton Regional Municipality in 2015 and has an option to buy it. Heddle followed shortly after that.
The wharf is silhouetted with a couple of cranes and is littered with lumber, aluminum, steel, a large generator that Moore said could power the community of New Waterford, and wires and cables.
It's also the home of the MV Princess of Acadia, the former Digby ferry that is waiting to be scrapped.
Other working ships are at the wharf for repairs, and the Arca 1, a former fuel supply barge from Montreal that ran aground in the Atlantic Ocean off Cape Breton in January, remains tied up at the dock six months later.
A spokesman for Transport Canada said in an email this week the Arca 1 can't leave port until the federal agency is satisfied.
"The vessel remains under detention while Transport Canada awaits information from the owner indicating that the required corrective actions have been completed and its propulsion equipment is operable, or other arrangements have been made to safely move the vessel," Pierre Manoni wrote.
Several barges used in the oil and gas industry off Newfoundland are also alongside the dock and are in various states of recycling, which Moore was quick to point out is not the same thing as shipbreaking.
Instead, the deck structures — including shipping containers, or "sea cans" as they are called in the business — are removed and the barges are then cleaned up and new structures are added, depending on the needs of the client, said Moore.
For example, one of the barges was used to move equipment in the oil and gas industry, and the deck is being reconfigured to move different equipment for a mining company.
All kinds of equipment and materials are also removed from the vessels and are inspected and reused or recycled. Heddle Marine resells sea cans, fire extinguishers, scrap metal and other materials removed from the barges.
"We don't scrap it and throw it away," said Moore. "We reuse it."
Some of the materials are used to manufacture ladders and gangways that connect the barges to each other or to the dock, or other custom equipment the clients demand, he said.
Some of the lumber is reused in new deck structures, and some will be donated to local organizations such as the all-terrain vehicle club or the groups that maintain the Baille Ard and Coxheath Hills trails.
Hazardous materials are also removed and disposed of at the proper facilities, Moore said.
A spokesman for Marine Recycling Corp., the company that won a federal tender to scrap the former Digby ferry at a cost of $2.6 million, told Local Xpress this week that shipbreaking in Sydney Harbour was a possibility, but that no decision had been made yet.
Moore said Sydney Harbour simply doesn't have the facilities or infrastructure required to cut up and scrap a large ship. But it can be decommissioned and prepared for towing to another facility with shipbreaking capabilities, such as the Marine Recycling location in Ontario.
The MV Miner, a Great Lakes barge that ran aground off Scatarie Island in 2011, was scrapped where it landed and was budgeted to cost $12 million, but reportedly cost around $18 million, including the cost of containing the work site, removing hazardous materials and restoring the environment after the ship was cut apart and the metal was hauled away.
The Arca 1, a flat-bottomed fuel barge powered by twin outboard motors that many observers say should never have been allowed to head out into the open ocean, is still being detained in port by Transport Canada. Moore said Heddle Marine was contracted by the owners and their insurance company to prepare the vessel for moving, which is expected to occur soon.
The masts and other tall parts of the deck structure have been carefully cut down and secured, and the hull has been outfitted so that a specially designed ship can attach straps and lift the Arca 1 on board for transportation to Mexico, where the owners plan to reattach the deck structures and put the fuel barge to use, he said.
Heddle has 25 employees ranging in age from 22 to 67, he said, and most are Cape Bretoners who had been working out of province but wanted to come home.
John Sullivan, the company's occupational health and safety officer, said morale among the workers is very high.
"I worked away from home for 14 years and didn't realize how much I lost with family," he told Local Xpress. "Now, I'm home. With the opportunity this company has given me, I'm proud to be home."
Eight of the company's workers are Indigenous, and under a deal with Nova Scotia Community College and the Mi'kmaw Economic Benefits Office, trainees are given an opportunity to learn skills and gain practical experience, said Moore.
"The only way we're going to grow is to invest in people," he said.
A Whitney Pier native who has worked in the financial services industry and in economic development, Moore has heard recent questions and comments about the possibility of shipbreaking in Sydport, and said he was happy to dispel that notion.
"We want to be open and honest and transparent here," Moore said. "We're building work here for our employees. We're actually trying to do something good for Cape Breton."
Both McKeil and Heddle buy a lot of supplies from local companies and employ Cape Bretoners as much as possible, he said.
And while the oil and gas sector in the Atlantic region is winding down, he said, there are plenty of other opportunities for marine services locally, including the cruise ship industry, Marine Atlantic, the Canadian Coast Guard and the Donkin mine.
Port facilities in Halifax, Saint John, N.B. and St. John's, N.L., are all busy and there's room in the market for services based in Sydney, which is also ideally located to pick up some of the slack, said Moore.
"There's a lot of ships that go past Cape Breton," he said. "Vessels are always going to encounter emergency situations. Like your car, they'll have breakdowns or need service. I really do believe we're going to continue to grow by leaps and bounds."
Source
: local xpress. 15 July 2017