THUNDER BAY – Tim Irish calls Tuesday's return of the decommissioned Coast Guard icebreaker Alexander Henry a watershed moment for tourism in Thunder Bay.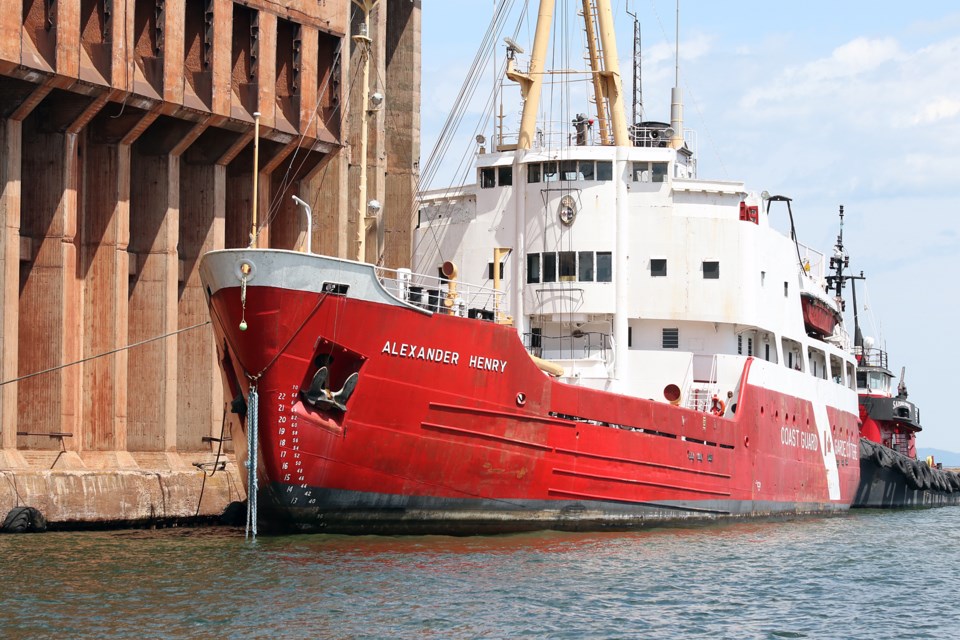 Irish, a member of the board of directors for the Lakehead Transportation Museum Society, said the hard work has only begun, but getting the ship home is a tremendous step.
"The fact that the ship is now here is an absolutely amazing moment for the city of Thunder Bay and is a piece of history that will never be repeated," Irish said, after spending more than three hours on Lake Superior as the ship was towed and tugged to its temporary berth at the old iron ore pier on the city's waterfront.
Built at the Port Arthur Shipyards in the late 1950s, the vessel entered service in 1959 and spent 25 years breaking ice on the Great Lakes.
Two years later the ship was given to the Marine Museum of the Great Lakes in Kingston, Ont., where it became a popular bed and breakfast for the next three decades. However, when the museum property was sold, the Alexander Henry was left without a home.
Options for the ship included scrapping it, sinking it as an artificial reef or handing it over to Thunder Bay, which had to come up with half the cost of the $250,000 to tow the Alexander Henry from southern Ontario.
Kingston's loss is Thunder Bay's gain, Irish said.
"It is the cornerstone. It is a piece of history. That ship was built here in 1959. It is an icon. It is going to be a tourist attraction for our city. The opportunity is for our kids to learn about transportation history, going through the Henry and learning about shipping and what that means to Thunder Bay and our history as a nation," Irish said.
"This is an amazing moment in our history. This is absolutely a watershed day."
City tourism manager Paul Pepe said the return of the Alexander Henry nearly six decades after it left the region is just another piece of Thunder Bay's tourism puzzle.
"The Henry is an addition to the attractions that are already in the community, pure and simple," Pepe said. "Anything that brings people to the city, that keeps them here longer, gets them spending more money, is important to our tourism economy overall.
"Being able to celebrate our marine heritage is important as well and something I don't think we've done enough of as a community."
The ship will undergo a month or more of restorative work and museum brass hope to have the Alexander Henry open for tours by late summer.
Where it will be berthed remains to be decided, the choice coming down to the Kaministiquia River Heritage Park on the city's south side and the former Pool 6 property adjacent to Prince Arthur's Landing.
Pepe said there are pros and cons to both sites.
"Certainly I can't predict where it will end up. Wherever maximizes its exposure and access to visitors is the most ideal location."
Source
: tb news watch. 27 June 2017