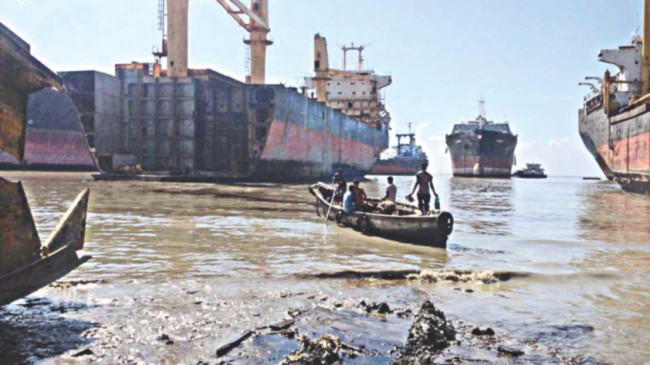 First it was toxic materialsin the ships, hauled to the breaking yard for scrapping, which posed hazard to the environment as well as to the workers and people living in the surrounding areas. Now we have to contend with the shipbreaking yards disgorging burnt oil of the dismantled ships into the Bay of Bengal. And this is happening in the country's largest shipbreaking complex in Sitakunda. It is no wonder that the recent study carried out by the Marine Department of Chittagong University shows that the biodiversity of Sitakunda is poorer than that of the other areas surrounding it.
The reported statement of the director of the Chittagong Department of Environment (DoE), that the department has not received any complaint regarding the dumping is quite puzzling. We wonder who is going to inform him about the pollution. The polluters? We understand he has his inspectors to exercise watch over these establishments. And they are certainlynot doing their duty if he doesn't know that one of his areas of watch is being severely polluted by the errant shipbreaking yard owners.
Admittedly, the shipbreaking industry is of considerable relevance to our economy, and it poses both opportunities and challenges. But the opportunities have been exploited while meeting the demand for raw material for our steel mills. While laws exist to protect the coastal belt and regulate the industry, which has mushroomed over the last decade, the oversight appears to be extremely loose. Deliberate breach of the laws by the owners in cahoots with some unscrupulous officials compounds the problem. Our coastal belt management must be strengthened and the local DoE officials must deal strictly and promptly with the violators.
Source
: the daily star. 08 May 2017