F

amilies of workers killed in Ctg shipbreaking yards allege that they are not getting such proper benefit.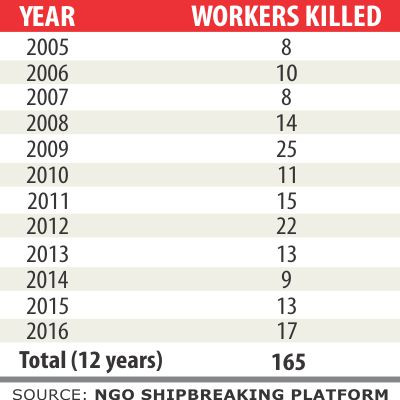 Al-Amin came to Chittagong all the way from Khulna in search of work so that he could support a seven-member family back home. But little did he know what awaited him.
While on duty, the 27-year-old worker of a shipbreaking yard in Chittagong got killed in an accident on September 5, 2015 -- an end to his struggle for bringing smile to his family members. However, the sufferings of his dear ones began as his untimely death put his entire family into poverty.
Al-Amin's sister Rabeya said the compensation they had received at the cost of the only earning member of the family was insufficient. They now find it difficult to make ends meet, she said, adding, "We got three lakh taka as compensation -- Tk 1 lakh through a labour court and Tk 2 lakh directly from the owner."
Though there is a government regulation that shipbreaking yard owners will have to pay Tk 5 lakh for each death in accident at the yards, families of the deceased workers allege that they have not received proper compensation as per the rule.
Take another example of Abdul Karim. The 22-year-old worker was killed in an accident at another shipbreaking yard on May 29 last year, putting his family into severe financial crisis.
Karim's mother Amena Begum said she had received Tk 1 lakh through a labour court and Tk 80,000 from the owner. "Karim was the lone bread earner of the family…the money we got as compensation was very little."
In the last 12 years, between 2005 and 2016, at least 165 workers like Al-Amin and Karim got killed in accidents at shipbreaking yards in Chittagong, according to NGO Shipbreaking Platform, a coalition of environmental, human and labour rights organisations whose goal is to prevent toxic end-of-life ships from being beached in developing countries.
However, allegation runs rife that the number of actual deaths might be higher than the abovementioned figure, as accidents at yards are not often reported to police. Therefore, exact figure of dead workers are not known, nor are the compensations paid to their families.
Tapan Dutt, convener of Shipbreaking Workers' Trade Union Forum, said owners are not paying the due compensation to the dead workers' families as per Ship Breaking and Recycling Rule 2011.
In the chapter VIII of the Rules published in December 12, 2011, it was said, "If the negligence of yard owner established, board [Ship Building and Ship Recycling Board (SBSRB)] may impose suspension of yard for one year, or a penalty from Taka one lakh to ten lakhs by realizing the magnitude of the negligence of the yard decided by SBSRB and the yard owner will pay to the next of kin up to Taka 5 (Five) lakhs as compensation for each death in accident and up to Taka 2 (Two) lakhs for deceased or seriously injured and with complete treatment and 12 months' salary as compensation or in accordance with the Labour Act 2016."
Referring to the rules, Tapan said, "The owners must pay Tk 5 lakh as compensation to the family of each worker killed in accident at the yards."
Echoing Tapan, Abdur Rahim, general secretary of Shipbreaking Workers Trade Union Federation, said owners usually do not want to pay Tk 5 lakh as compensation.
"We have recently realised Tk 5 lakh from an owner for a victim's family. But it is true that we cannot succeed in most of the cases," he said, adding, "We are trying to implement it for every incident."
Contacted, Syeda Rizwana Hasan, chief executive of Bangladesh Environment Lawyers' Association (Bela), said the owners pay compensation as per labour law.
But there is a separate rule formulated in December 2011 by the ministry of industries for shipbreaking yards, where it has been clearly said that the owners should pay Tk 5 lakh each for workers killed in accident at yards, said she.
"I don't know why the rule is not being followed," she said, adding, "There is no scope here for considering labour law as a barrier to implement this rule."
Bangladesh Coordinator of NGO Shipbreaking Platform Mohammad Ali Shahin also said, "We have been demanding to set the compensation amount minimum at Tk 5 lakh, but it is yet to be implemented."
Contacted, Abdul Hai Khan, deputy inspector general, department of inspection for factories and establishment, Chittagong, said the shipbreaking and recycling rules were formed following a High Court order but act in this regard has not been formulated yet. "So we cannot enforce it," he said, adding, "It is very important to formulate an act in this regard."
"But we are trying to increase the amount of compensation," he said. "In a meeting of Industrial Crisis Committee, headed by deputy commissioner of Chittagong, on September 1 last year, a decision to pay Tk 5 lakh compensation to each killed worker's family was made and we are trying to implement the decision."
Contacted, Abu Taher, president of Bangladesh Ship Breakers Association, said no such decision was made in the meeting. "Actually it came as a proposal. We usually pay almost Tk 3 lakh to Tk 4 lakh altogether to a victim's family."
Source
: the daily star. 22 May 2017