A union said its fate 'highlights everything wrong with the UK's approach to decommissioning'.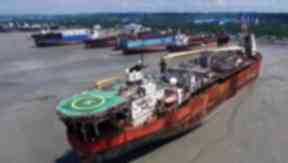 The hulk of a colossal North Sea oil vessel has been found rusting on a beach in Bangladesh.
The North Sea Producer, which was jointly-owned by Maersk and Odebrecht, was sold off last year.
The 52,000-tonne vessel left the UK in May after languishing in port for nine months and was expected to return to service.
It has since emerged the ship was then resold to the Chittagong Ship Breaking Yard, where it is being dismantled.
Tommy Campbell, chairman of the Offshore Coordinating Group at the Scottish Trades Union Congress, said its fate "highlights everything wrong with the UK's approach to decommissioning".
"It is essential that government and regulators work with unions and the industry to quickly develop and implement a new and effective strategy for North Sea decommissioning," he said.
"If this approach becomes embedded, good jobs will be lost to the UK economy and workers and the environment in developing nations will be cruelly exploited.
"Having extracted massive profits from the North Sea, operators cannot be allowed to duck the responsibility to decommission in an ethical manner".
The North Sea Producer was owned by Maersk and Odebrecht under the joint venture North Sea Production Company Ltd, which was legally responsible for the vessel.
Maersk said it was sold on the understanding that if it was dismantled, the work would be carried out according to international regulations.
But the Chittagong Ship Breaking Yard does not abide by the Hong Kong Convention, which was created to ensure ships are disposed of safely.
According to the Ship Breaking Workers Trade Union Forum, 13 workers were killed in accidents at ship-breaking yards in Chittagong last year and seven were injured.
A spokesman for Maersk said the Danish firm attempted to retrieve the vessel when it learned it had been resold.
"We looked into different possible options available to us to get the vessel out of Bangladesh to ensure Maersk-compliant recycling elsewhere," they said.
"However, despite our concerted efforts we were unsuccessful and, on August 22, we were informed that the vessel had been beached.
"The legal responsibility for the North Sea Producer - and thus also for its scrapping - lay in the joint venture.
"When the North Sea Producer was sold that responsibility passed on to the buyer, who subsequently sold the ship to its current owner, the shipyard in Bangladesh.
"Maersk are therefore unable to take any further action in this case."
A diesel leak aboard the North Sea Producer in September 2014 prompted an inquiry by the Health and Safety Executive. Inspectors warned the incident risked causing an explosion.