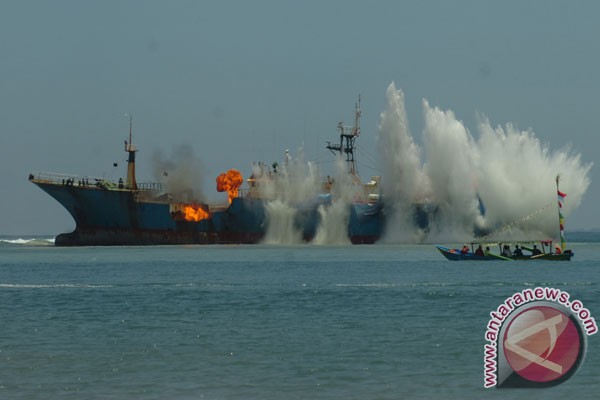 Officers of Ministry of Maritime Affairs and Fisheries and the Indonesia Navy detonated Interpol's Nowergian fugitive, The MV Viking, in the waters of Tanjung Batumandi, Pangandaran, West Java, on Monday (March 14, 2016). (ANTARA/Adeng Bustomi)
Jakarta (ANTARA News) - The demolition of MV Viking, a vessel being sought out by Interpols Norwegian branch, is both lawful and based on sufficient evidence, Peoples Coalition for Fishery Justice (Kiara) Secretary General Abdul Halim stated here, Monday.
"If they already have adequate evidence, the Fisheries Act provides the opportunity to demolish the ship," Halim remarked.
Moreover, the Coalitions secretary general also remarked that the ship had evaded capture by the Interpol and was pursued by several countries.
MV Viking was captured by the Indonesian Navy and planned to be sunk in Tanjung Batu Mandi area, Pangandaran, Monday.
Earlier, Minister of Maritime Affairs and Fisheries Susi Pudjiastuti had expressed readiness to sink the MV Viking vessel, which was seized in the Indonesian waters and was wanted by global law enforcement agencies and the Interpol.
"We are targeting to immediately sink the ship," Susi noted at a press conference in Jakarta, Friday (Feb. 26).
Susi pointed out that MV Viking, which was being targeted by the Interpol, had changed its name 13 times, its origin countrys flag 12 times, and its call sign eight times, which resulted in the ships status being declared as a stateless vessel.
The ship has allegedly violated several laws, regulations, and international conventions and is also believed to have committed fraud-related crimes of illegal fishing.
A joint team from the Navy managed to detain the vessels crew in the Tanjungberakit waters of Bintan district, Riau Islands Province.
Indonesian Naval Base IV Commander/Tanjungpinang Navy Colonel S. Irawan stated in Tanjungberakit on Friday that the arrests were made by the Navys personnel who served aboard KRI Sultan Saifuddin Toha-376 and NP 408 Bolco helicopter on Thursday (Feb. 25) afternoon.
"KRI Sultan Toha successfully docked and escorted the MV Viking vessel to the Navy base in Tanjunguban," noted the Navy colonel.
According to the Norwegian Interpol, the ship had changed its name 13 times and its flag 12 times.
The Navy captured 11 crew members from Myanmar, Argentina, Peru, and Indonesia.
"The boss of the ship is a Myanmari national," remarked Colonel Irawan.
Source
: Antara news. 14 March 2016