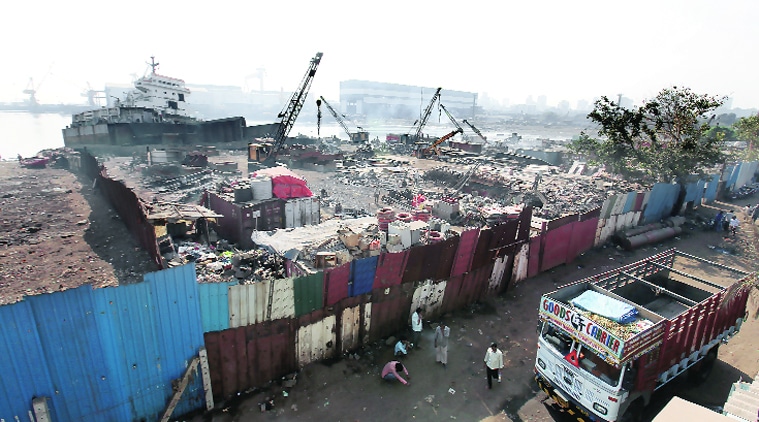 Efforts to redevelop port land gain pace
At a meeting in Delhi, the state government suggested three sites - Raigad, Ratnagiri, and Kalyan. The Mumbai Port Trust has sought more options.
In what is being seen as a precursor to the redevelopment of the port land, the state and the central governments have begun discussions on relocation of Darukhana, the shipbreaking yard on the city's eastern seafront.
At a top-level meeting in Delhi earlier this month, the state government suggested three sites where the century-old yard could move. However, the Mumbai Port Trust, which controls the yard, sought more options. The sites suggested were Raigad, Ratnagiri, and Kalyan.
The meeting was headed by Joint Secretary, Shipping, Barun Mitra and the state government was represented by senior Mumbai Port Trust officials and Maharashtra Maritime Board CEO Asheesh Sharma.
The Mumbai Port Trust, spread across 1080 acres - that's 50 Oval maidans - is the city's last chance to save itself from crumbling under its own weight. The disastrous consequences of having wasted the opportunity of utilising the mill land for creating open spaces and affordable housing are already visible.
Apart from the shipbreaking yard, Darukhana also houses a vibrant market for scrap obtained from the ships dismantled at the yard.
Mumbai Port Trust chairman Ravi Parmar admitted that shipbreaking is not sustainable at Darukhana because of its proximity to residential areas and the pressure to move it elsewhere will rise gradually.
"Shipbreaking is a hazardous activity. But we do not allow breaking of passenger ships here. Also, big ships are not dismantled here. They go to Alang in Gujarat. Gradually, the number of ships coming to Darukhana has gone down," he said.
Referring to the meeting in Delhi, Maharashtra Maritime Board CEO Asheesh Sharma said the sites suggested by the state government where the shipbreaking activity could be shifted to were not acceptable to the Port Trust. "Ultimately, it is a call that the Port Trust will have to take following discussions with its stakeholders," he said.
Sharma said that the Port Trust has been directed by the Union Shipping Ministry to open internal discussions aimed at moving the shipbreaking activities out of Mumbai.

"Whatever site they select, we will be available to help them in the transition," he said.
While shipbreakers don't seem to be worried about the move out of Mumbai, the Transport and Dock Workers Union is dead against the idea. Ship breaker Abdul Karim Jakha said the taxes are so high in Mumbai that a bulk of shipbreaking activity has already moved to Alang. "There are 19 plots in Mumbai, but only four or five are occupied at any given point of time," he said.
Kersi Mehta, working president of the Transport and Dock Workers Union and a Mumbai Port Trust trustee, said the workers' future must not be sacrificed for providing Mumbai recreational space.
The Union Shipping Ministry is likely to review the matter of shifting Darukhana out of Mumbai in a fortnight.
Source

: Mumbai mirror. 16 August 2015