Nicholas Grimshaw's threatened Ship building in Plymouth has been saved from demolition.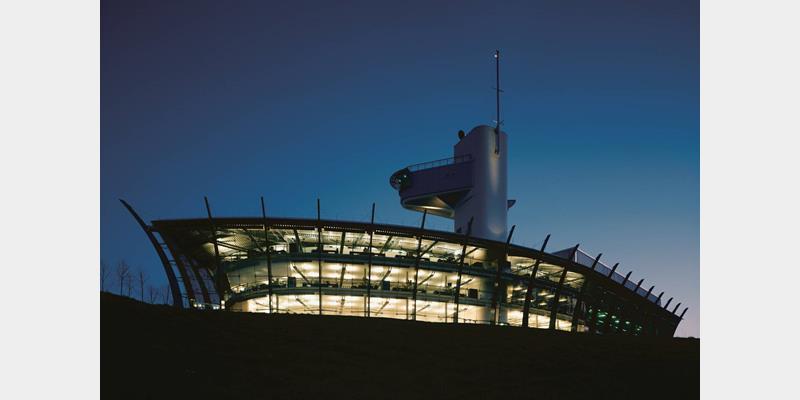 The former Western Morning News headquarters has been sold to a Devon developer which has promised to reuse it as offices for small businesses.
The distinctive building was owned until this week by the Daily Mail & General Trust which had threatened to bulldoze it as no longer fit for its purposes.
Historic England recommended it for listing at grade II* on the advice of the Twentieth Century Society, but the report is still sitting in the inbox of the new culture secretary.
Henrietta Billings, senior conservation adviser at C20 Society, welcomed the news that contracts had been exchanged.
"The fact the new owner is making positive noises about the listing ahead of the minister's decision is a really good thing, as is the fact they have a much more positive attitude to the building than the previous owners who wanted to demolish it," she said.
Burrington Estates, which made a name for itself working with historic buildings, will rename the Ship the Spirit of Enterprise and turn it into a "Thrive Hub" offering flexible workspaces to entrepreneurs and growing businesses. It hopes to roll the model out into other cities.
Chairman Mark Edworthy welcomed the listing bid and said: "Saving Plymouth's glass Ship building marks an investment of £5 million and we look forward to working alongside Plymouth City Council to ensure The Ship reaches its full potential within the city."
Co-founder Paul Scantlebury said: "Burrington Estates has a strong track record in delivering large-scale construction and renovation projects, preserving the heritage of sites like Dean Clarke House, once the Royal Devon and Exeter Hospital, and now a pride of the city rather than a derelict, unloved site.
"In Ivybridge, we hope to create a new heart of the community, with a sensitive but ambitious multi-use housing and retail development at the historic Stowford Mill, while retaining the heritage of the site.
"Meanwhile, in Plymouth, we have taken Ocean Crescent and transformed it into a stylish and sought-after apartment building and continue to develop Burrington Business Park into a thriving place to do business."
Source

: bd online. 13 May 2015