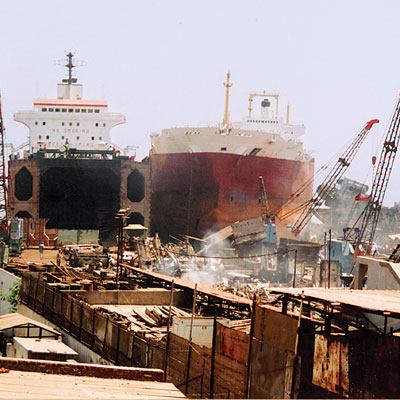 At Alang, about 50 km off Bhavnagar in west Gujarat on India's west coast, the world's biggest graveyard for junk ships is awaiting NaMo's coronation.
Just like the stock market where traders went crazy and Sensex lost its sense of gravity, the thriving market for decommissioned ships has reached stratosphere, with most deals, being struck at over $500 per tonne, more than 30% premium over year-on-year rates.
There is uncertainty over long-term viability of the business and steel prices (ships are demolished to make steel plates sold in the secondary market), but a NaMo wave sweeping across the dirty, oily beaches of Alang-Sosiya is giving confidence to ship breakers.
Buoyed by the strengthening of rupee and improving the prospect of steel prices in the secondary market, the multi-billion junk ship market is busy striking deals.
At present, around 80 ships are being demolished at Alang's yards. Ship breakers believe that BJP's government will ensure a steady improvement in infrastructure, which, in turn, would help steel prices.
"We are all excited. We look forward to Modi reshaping the Indian economy. The worst is behind us," says Nitin Kanakia, a ship breaker and joint secretary of Ship Recycling Industries Association India.
According to him, around 60-65 yards, out of the total 138, are working at present.
"Prices have shot up from $380-400 per tonne to over $500 in last 12 months," says Kanakia.
Last week, a container ship Messologi (23,740 tonne), controlled by the Greek shipping giant Danaos, was sold for $515 per tonne, the fourth sale from the group this year, according to a report by GMS, world's largest trader of junk ships.
Another ship from Danaos, Mytilini (23,366 tonne), was sold for $509 per tonne two weeks ago. Another Italian owner has committed both their sister ships (roll-on roll-off) Jolly Verde and Jolly Rosso (both 13,696 tonne) available at Jebel Ali, for $500 per tonne, with extra payment for bunker oil.
Similarly, PIL of Singapore has sold container ship Kota Wirawan (6,811 tonne) at $513 per tonne.
Shashank Agrawal, group legal advisor of Singapore-based trader Wirana Shipping Corporation, told dna that the rupee has already strengthened, and it is expected to gain further, with higher dollar inflow. "Everyone hopes that steel prices would increase too, riding the increasing demand amid an infrastructure push. Demand for old ships will definitely see an increase," says Agrawal.
Over last few years, yards in Alang have seen several disputes and court cases related to ownership and possession of ships, and unpaid wages and dues to suppliers. "Going forward, number of such cases will increase," says Agrawal.
Kanakia says while the rupee has strengthened, there is no corresponding increase in steel prices in the secondary market. "Prices are ruling at Rs 29,500 per tonne, just around Rs 2,000 more year on year," he said, discussing the non-viability of the business in the current scenario.
While ship breakers and cash buyers are eagerly looking for the Modi's magic in New Delhi, not everyone is singing praises of Modi.
"During his days in Gujarat, Modi was also holding the shipping portfolio. Under his tenure, governance at Alang had seen a steady decline. For instance, the process of allotting plots on Alang beach had become ad hoc, leading to corrupt practices. Issues related to safety and pollution are still given a go-by. In April, four workers from Odisha were crushed to death at the yard," says Gopal Krishna, convener of NGO Toxics Watch Alliance.
"Over last one decade, Alang has seen more than 200 deaths, making it the worst among industrial disasters," says Krishna, who is fighting several battles for workers' justice.
He says the global shipping companies have turned Alang into the most polluted beach in the world with the complicity of Gujarat and central governments. "Gautam Adani's group company has proposed to set up a ship recycling yard at Mundra. Now that Modi has come to power, Adani's proposal, which is awaiting a final nod from the environment ministry, will soon get a clearance," he adds.
Source: DNA India. 20 May 2014