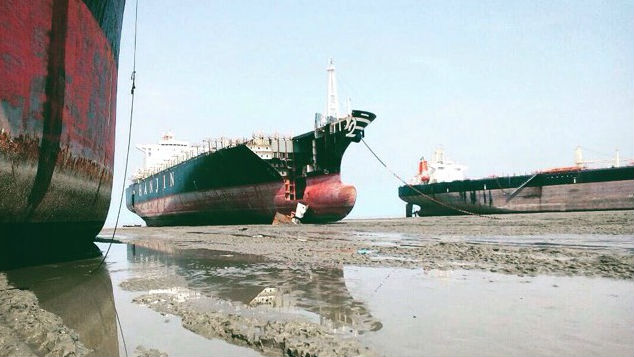 Credit: NGO Shipbreaking Platform - Hanjin Rome beached in Chittagong, Bangladesh
The NGO Shipbreaking Platform reports that two workers lost their lives at Chittagong shipbreaking yards in May, bringing the total death toll this year to six workers.
On 6 May, 26-year-old Shahinoor died at Jamuna Shipbreaking yard after falling whilst working on the Hanjin Rome, the first vessel arrested after the collapse of Hanjin Shipping last year. The vessel was put up for auction by the High Court in Singapore early this year, and the Platform said the vessel was sold to a cash buyer for recycling.
This is not the first time that courts, in deciding on bankruptcy cases, completely ignore the environmental and human repercussions of selling shipping assets to beaches, with the sole purpose of sorting out failed companies' balance books, says Ingvild Jenssen, Founding Director of the NGO Shipbreaking Platform.
Jenssen says deaths on the beaches have also been a direct consequence from bankruptcy cases in Germany, such as the sale of the King Justus to Alang and the Viktoria Wulff to Chittagong.
"That insolvency administrators appointed by the courts in Singapore and Germany have been allowed to trade unprofitable ships to the beaches of South Asia is shocking," she says.
On 9 May, winch operator Ishaq was hit by a wire cable and died on the spot at KR Steel. According to local sources, KR Steel was dismantling the vessels Sea Zenith and Kota Wisata when Ishaq was killed.
Earlier this year the Institute for Global Labor and Human Rights (IGLHR) published a detailed account of the fatal accidents that killed 19 workers in Chittagong in 2016. The report includes interviews with workers that describe harsh conditions, lack of protective equipment, exposure to toxic gases and fumes and a constant fear of dying at work:
"There are enclosed dark places on the ship, where there is no ventilation. The cutters go in first [to cut holes in the sides to let light in]. Especially they get sick and nauseous," a worker reports to IGLHR.
"All of us cutters get sick from the chemicals. It always happens," other workers add. "I work at night because the owner wanted me to work the night shift," says a worker, adding, "it is cooler. You sweat less. So for me, it is better. But it is more dangerous. That is the biggest worry: It is very risky. At any time, I could lose my life".
Chittagong-based Platform member Young Power in Social Action (YPSA) recently organized a human chain and a rally gathering more than 100 workers and their family members.
"Six workers have died this year. Many more workers have suffered serious injuries. Safety and workers' rights are shamefully being ignored in most yards," said Muhammed Ali Shahin from YPSA. "Whereas the Bangladesh Shipbreakers' Association is reluctant to take any action on the yards where workers are dying, the Courts should act immediately to ensure that no yard is allowed to operate in breach of national laws on occupational safety and environmental protection."
Source
: maritime executive. 18 May 2017