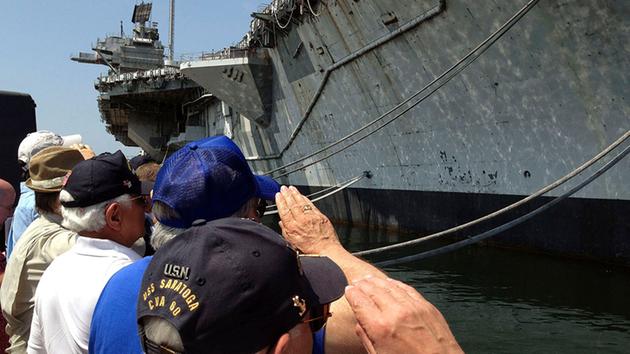 Veterans of the decommissioned aircraft carrier USS Saratoga salute the vessel during a farewell ceremony at Naval Station Newport Friday, Aug. 8, 2014 in Newport, RI. (AP Photo/Jennifer McDermott)
NEWPORT, RI -- The decommissioned USS Saratoga aircraft carrier is set to be hauled away from Newport and brought to Texas to be scrapped.
A crew with Esco Marine is scheduled to tow the carrier out of Naval Station Newport on Wednesday and take it to its ship recycling plant in Brownsville, Texas. The company is being paid a penny by the Navy to dispose of the Saratoga and plans to make money by selling what it recovers from the ship.
The Saratoga was launched in 1955 and decommissioned in 1994. The vessel fell into disrepair, and an effort to preserve the ship as a museum failed.
More than 100 veterans who served on the Saratoga said goodbye at a farewell ceremony at the naval station earlier this month.